About

Homeschooling

On

a Shoestring

and

Educational Travel on a Shoestring
Two moms who are unabashed penny-pinchers share their ideas for economical homeschooling in a two-paycheck, latchkey world. Homeschooling on a Shoestring tells the personal stories and creative solutions of home school parents across the U.S.A, Europe and Canada. This book is packed with freebies, tips, resources and anecdotes to give parents the confidence to tackle homeschooling with enthusiasm.
Homeschooling on a Shoestring: "This book is the most original and helpful homeschooling book I've read in years. Highly Recommended."--Mary Pride, publisher of Practical Homeschooling magazine
Educational Travel on a Shoestring : Frugal Family Fun and Learning Away from Home :"I believe this book will be welcome to many parents and families who have been frightened away from air travel and are in the market for alternative ways of taking vacation trips. You have produced a useful and entertaining "workbook" for economical travel." –D. James Kennedy, former Chancellor, Knox Theological Seminary, President and Speaker Coral Ridge Ministries Television and Radio
Listen to Melissa on Homeschool Heartbeat, http://www.hslda.org/docs/hshb/81/hshbwk3.asp
About Homeschooling on a Shoestring

from Home School Heartbeat
---
"If you're one of the many homeschooling families feeling senselessly trapped on a tight budget—just remember, it's not too late to start saving money! From inexpensive curriculum, affordable teaching tools, to low-cost field trips, author Melissa Morgan talks about a few ways families can save on a shoestring budget and give their children a rich education. Tune in for more on this week's Home School Heartbeat.
"
Program Listing:

Click on a program title to listen online and read a transcript
Melissa L. Morgan is the co-author of Educational Travel on a Shoestring and Homeschooling on a Shoestring, and a regular columnist for Practical Homeschooling magazine. Her work has appeared regularly in magazines and Sunday school publications for children and adults. Publishers include Cross Walk (formerly Teens Today), Christian Education Publishers, San Diego, Ca., Reconciliation Press, Seeds Tracts, and Adult Ministries, International Church of the Nazarene. She has been featured on national radio shows, including the Rev. Billy Graham's Decision Today, Christian Financial Concepts with Larry Burkett and James Dobson's Focus on the Family. With her husband, Hugh, she has homeschooled their three children from birth, taking advantage of many educational opportunities in the real world. Her older children are now adult homeschool graduates, and her youngest homeschools with medical and visual challenges. Visit her website and blogs at http://www.eaglesnesthome.com ,for free and frugal educational resources.
Melissa's education, outside of the School of Necessity and Hard Knocks, includes completing the Professional Division of the Christian Writer's Institute. She cut her teeth learning frugal buying techniques through business, contract writing, cost and price, and negotiation courses, at Columbus Technical Institute, Army, Air Force, and Navy Institutes. In 1996 she was awarded a Certificate of Achievement for teaching and communication skills from Dr. Howard G. Hendricks, Chairman of the Christian Leadership Center.
She has taught various age groups, from preschool to adult, in Sunday school classes, children's church, the 12 Steps for kids, a literature and worldview course, and monthly home school support group classes. She served as instructor for a course at Virtual University. Melissa Morgan has worked as a volunteer clown at a mission in Columbus, and as a communications consultant and webmaster for the Center for Bio-Ethical Reform.
Morgan co-founded the Pataskala Christian Writer's Fellowship, (Columbus Writer's Association/Pataskala) in 1994 and served as leader for the group until 1998. In that capacity, she coordinated and spoke at writing seminars and workshops. She is the webmaster for An Eagle's Nest Homeschool, http://www.eaglesnesthome.com. She is currently a member of the Learning Tree Homeschool Co-op, and former co-secretary/newsletter editor of Pataskala Area Teaching Homes With Able Young Students (PATHWAYS) .
Melissa enjoys reading, and has researched hundreds of books related to home education. She also enjoys nature, crafts, music, old movies, travel, and gardening. All these interests have become interwoven in the family tapestry, likely for generations to come.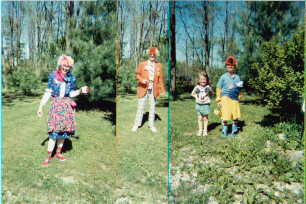 Morgan family photos: we're all just a bunch of clowns!
---

Freebie and Cheapie Homeschool links, education, Bible, science, social studies, language arts, literature, math, software, intelligent design, creation, high school, distance education, special needs, demos, and freebie links!
A Home For Wise Family, Education and Homeschool Stewardship
An Eagle's Nest Homeschool and Travel Blog
Discover the Truth: DaVinci Code or Jesus Code?
Teens, High School and College
Writer's and Homeschool Resources
Intelligent Design, Science and Evolution
Christian Homeschool Books, music CDs bargain priced!
Health
Wings Abroad
Educational Travel on a Shoestring Free Samples
Shoestring Living
Homeschool On a Shoestring Book
Debt-Free Living, Avoiding Business Opportunity Scams and Bad Home Builders
About Us
Wise Homeschool Links, Banners, Rings
Bio-ethics
Hate Crimes, Abortion and Violence In America
Tell a friend about this great educational web site:
Click for Bargain Books!

More Great Educational Homeschooling & Learning Books
Christian Book Distributors offers a huge selection of bargain-priced homeschool and educational resources and books. Portions of your purchases help support this web site. Thank you!
Melissa L. Morgan, school@NOSPAMeaglesnesthome.com (To contact, remove "NOSPAM" from the e-mail address. Thanks for helping to reduce spam.)